About Us
ReelFlyRod.com
The Friendliest, Most Knowledgeable Pro Staff of Fly Fishing Experts Worldwide!
We are a small business that truly cares. We are fish crazy. We personally field test and use all the gear we sell. We are gear heads. It's all we can talk about here at the fly shop. Our mission is to help you expand your enjoyment and broaden your experiences in the life changing pursuit of fly fishing. Life is short. Get out there and create your best memories.
Our goal at ReelFlyRod.com is the be the absolute best fly shop on the planet with our exceptional customer service - and the only place you will ever need to look. We promise to deliver you the very best, latest and greatest, high-performance, bang for your buck, awe-inspiring, eye-popping, jaw dropping, showing off to your buddies fly fishing gear anywhere. From trout to tarpon, bass to bonefish, salmon to striped bass, we have all the best gear to fit any budget, from entry level to the latest and greatest world-class gear. Even better, we will be happy to share our decades of experience chasing fish around the world with you.
We understand that word has gotten out that we are a great fly shop to deal with. We noticed you told all your friends about us. A huge thank you to our thousands of loyal customers. Spreading the word is the ultimate compliment you could ever give us. It is also the secret recipe to our record growth. We know the excitement when your new gear arrives is like that of a child on Christmas morning. We understand how critical it is to receive your new gear in time for your trip. We're here to help cut through all the confusion when it comes to choosing the best performance fly fishing gear at the absolute best price.
We will custom tailor your order to your specifications…all you have to do is ask. Your order will be carefully packaged and shipped quickly so we can get you out on the water as fast as possible. ReelFlyRod.com is an Authorized Dealer for the finest fly fishing manufacturers in the world including: Sage, R.L. Winston, Scott, Simms, Hatch, Tibor, Orvis, Waterworks-Lamson, Redington, Temple Fork Outfitters, Echo, Ross Reels, Korkers, Fishpond, Umpqua, Patagonia, RIO, Scientific Anglers, Airflo, Dyna-King, Sitka, Suncloud, Rainy's and more! We also offer Professional Guiding Services on the southern Ohio river systems. All the equipment we sell is new, factory-built gear with the manufacturer warranty cards. Thank you for supporting your locally-owned, independent fly shops!
Fly Shop Hours: Monday - Friday 9:00am - 6:00pm, New! Saturdays 9-2 pm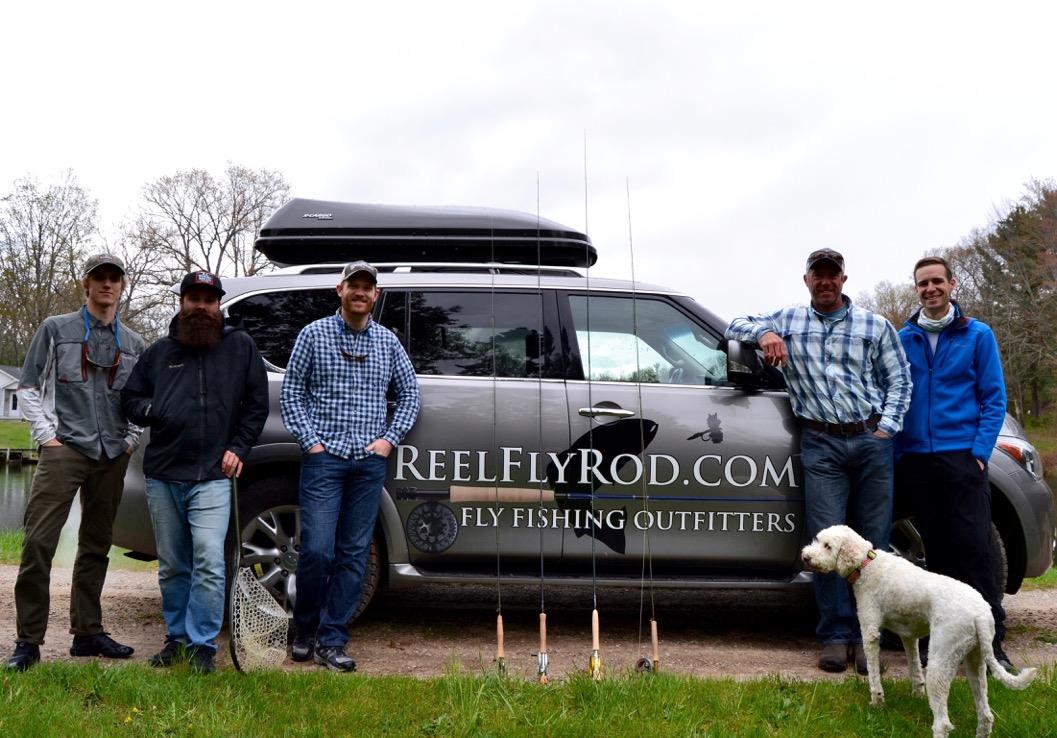 The ReelFlyRod.com Pro Staff (from left): Joey Penry, Matt Parker, Kyle Brown, Todd Mikesell, Jacob Goetz, and Daisy.
We want to provide you with a Best Ever customer service experience! Your items will be carefully packaged and ship within 1 business day. We also guarantee your 100% satisfaction with our products and superior customer service. Once you experience our exceptional, personalized service, we are confident that ReelFlyRod.com will become your primary "go to" fly shop for all your fly fishing needs!
ReelFlyRod.com is proud to offer *Free Worldwide Shipping* on ALL orders of $500 USD or more! (Oversized orders may incur a shipping charge)
100% Satisfaction Guarantee: If you are happy, then we are happy! We will do whatever it takes to make sure you are completely satisfied with our service and our products. In the nearly impossible event that you are not 100% satisfied with your purchase for ANY reason at all, simply return the items to us in their original packaging within 30 days for a full refund, less shipping costs.
Most Orders Ship Within 1 day via USPS Priority Mail, or USPS Priority International Mail. Fed Ex and UPS shipping is also available upon request (may incur additional shipping costs.)
We Ship Worldwide! For Orders outside the U.S. & Canada, please follow the simple steps listed under International Orders or email your order to: info@reelflyrod.com.
ReelFlyRod.com E-bay Store: (Click Here). International Customers may also order directly from our Ebay Store using Paypal.
United States Shipping Costs:
ALL Orders ship Free in the United States! Unlike other fly shops, there is No Minimum Purchase Required!
Canada Shipping Costs:
Shipping Costs to Canada are $34.95 USD. Orders of $500 USD or more ship Free to Canada!
Worldwide Shipping Costs:
ReelFlyRod.com ships to over 200 countries! We offer Free Worldwide Shipping on All Orders of $500 USD or more! International Shipping Costs for orders under $500 USD are just $49.95 USD, regardless of order size or weight!
FLY FISHING GUIDED SERVIES AROUND OHIO and INDIANA
ReelFlyRod.com offers guides fly fishing services for Brown Trout and Smallmouth Fly Fishing around Southwestern Ohio and Southeastern Indiana. Click here for more details ReelFlyRod Guided Servies.