Contact Us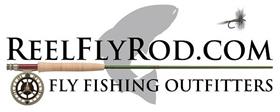 Have product questions or need help selecting the proper equipment? We'd love to hear from you! Please complete the Contact Information form below and we will respond as quickly as possible. We can also be reached by phone at 937-434-8472 or Toll Free (855) 434-8472, Monday - Friday 9:00am-5:30pm EST.
Our Fly Shop and Casting Range is Open! Local customers can visit, shop, and cast fly rods at our new showroom on Wilmington Pike in Dayton, Ohio. Fly Shop Hours: Mon-Fri 9:00am-6:00pm, New! Sat 9:00-2:00pm.
FREE U.S. SHIPPING ON ALL ORDERS! That's right...every order ships Free, 365 days a year! No minimum purchase required. We consider this just a small part of providing great customer service.
*FREE WORLDWIDE SHIPPING: ReelFlyRod.com is proud to offer Free International Shipping on ALL orders of $500 USD or more! Shipping costs for orders less than $500 USD are just $49.95 USD,regardless of size. (ReelFlyRod.com reserves the right to charge $49.95 or split shipping costs with the customer for oversized orders.)
RETURN POLICY: Let's keep this simple. If you're happy, we're happy. We Guarantee your 100% satisfaction. Every time. All items may be returned in their original packaging for ANY reason within 30 days for your choice of a full refund or exchange.

SHIPPING DETAILS: ALL orders ship FREE (most within 1 business day) by USPS Priority Mail or Fed Ex Ground in the U.S. and USPS International Priority Mail to Canada and Worldwide. Fed Ex Priority and USPS Express shipping is also available. We will email tracking information when your order ships.

CURRENCY CONVERTER: How much does it cost? Here are up to date conversion rates for all major worldwide currencies.
Import Duties and Taxes
Please note that your international order may be subject to certain import customs, duties and taxes imposed by your country upon delivery. These charges are NOT included in the prices and shipping costs listed on Tactics.com. As the importer of record, you must comply with your local laws and regulations and pay all applicable duties, taxes and fees. Accordingly, we recommend that you contact your local customs office for an estimate of any applicable taxes and duties you may be charged upon delivery and for further information.


CAN'T FIND WHAT YOU'RE LOOKING FOR? Please let us know exactly what you want and we will do everything we can to get it for you quickly!
Thank you for contacting us! ReelFlyRod.com Pro Staff